We provide comprehensive training in Computer Aided Engineering to aid in product design. We provide training in various CAE softwares such as:
Ansys
HyperWorks
Matlab/Simulink
Staad Pro
Revit Architecture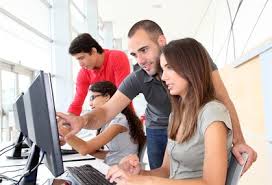 Within a short period of time, we have gained immense respect and reputation as the go to institute for CAE training. Major credit of this success goes to our experienced staff that has hands-on experience in both training and live projects. This helps our students to not only learn the theoretical concepts but also gain practical knowledge about projects in real time scenario.
There is a huge demand for professionals who are adept at engineering analysis. But the resources are not available in plenty. Our sole aim as a training institute is to bridge this gap between the supply and demand of the professionals by providing quality training and taking your business to the next level.
Course Structure 
ANSYS (FEA)
Static Structural
Steady-State Thermal
Transient Structural
Transient Thermal
Modal
Linear Buckling
Non-Linear Buckling
Fatigue
ANSYS (CFD)
Fluid Flow (Fluent)
Fluid Flow (CFX)
ICEM CFD